The story starts back in May of 2001, when Cathy and I wanted a dog. We decided that a Labrador Retriever was the dog that we wanted. We knew how great these dogs were, they were loyal and loving and made a great family addition to any home.
We came across an ad in our local newspaper by a family that had chocolate lab puppies. We called and set up an appointment to meet the bundles of joy for the next day.
The next day we were introduced to 6 puppies. At 8 weeks old they were as cute as could be. I had my eye set on a female that seemed pretty laid back and had waddled over to me. Cathy had set her sights on a beautiful milk chocolate female that had a calm yet playful personality. Cathy said to me " there is no way we are leaving without her " so I set the puppy I was holding down and I met this little girl for the first time. We decided she was the one and we took her home.
On the way home we quickly bonded with this girl. Her in a small little crate on the floor of the front seat and us trying to decide on a name for this beautiful little girl, who was sure to bring us so much love. What we would name her, and the decision was Abby.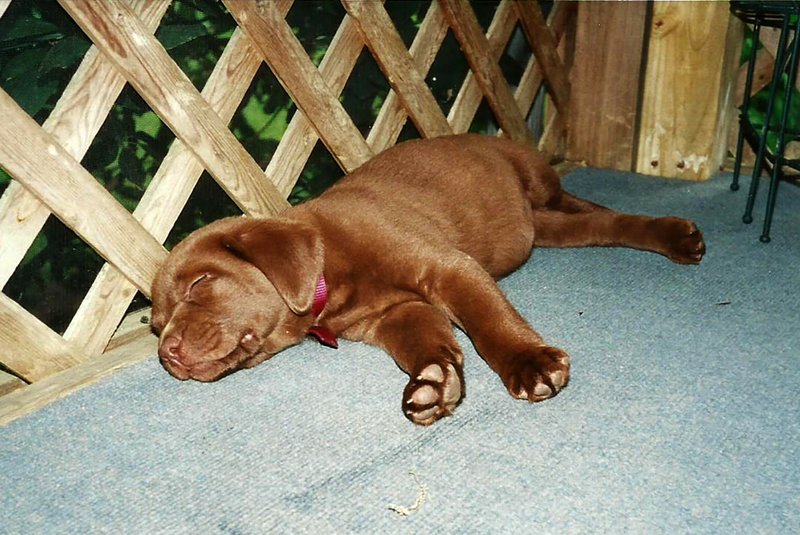 As the weeks went by her personality became more evident. She was very smart, easy to house train, very loving but with an independent streak.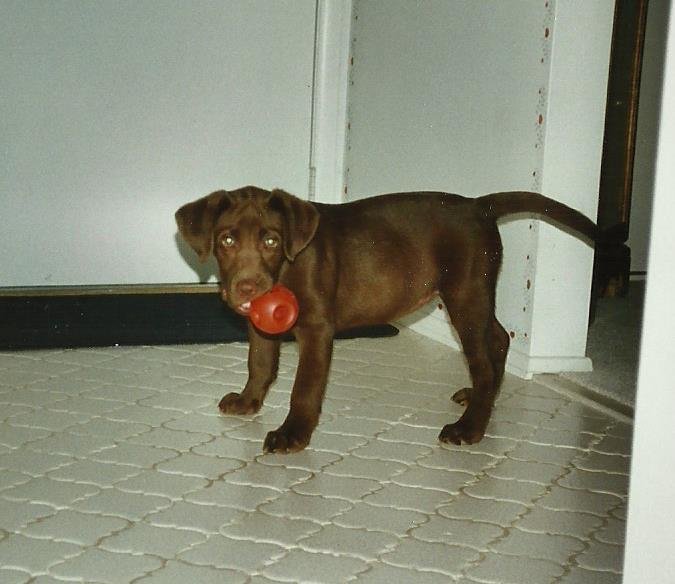 I would take her to work with me everyday, which made it easier for us with her care. Her biggest problem was eating my truck! On the way home she would ride in the backseat and would be very quiet. Well when I came to a stop I found out why, she managed to chew the seat belts right in half! Oh well no one rides in the back of a pick up truck anyways, right?
We found that Abby loved water and to swim, like most labs. We couldn't keep her out of the lake when we went to the park. She would swim with the geese or a passing row boat or kayak. She was also a lover of the snow. Her favorite winter game was catching snowballs.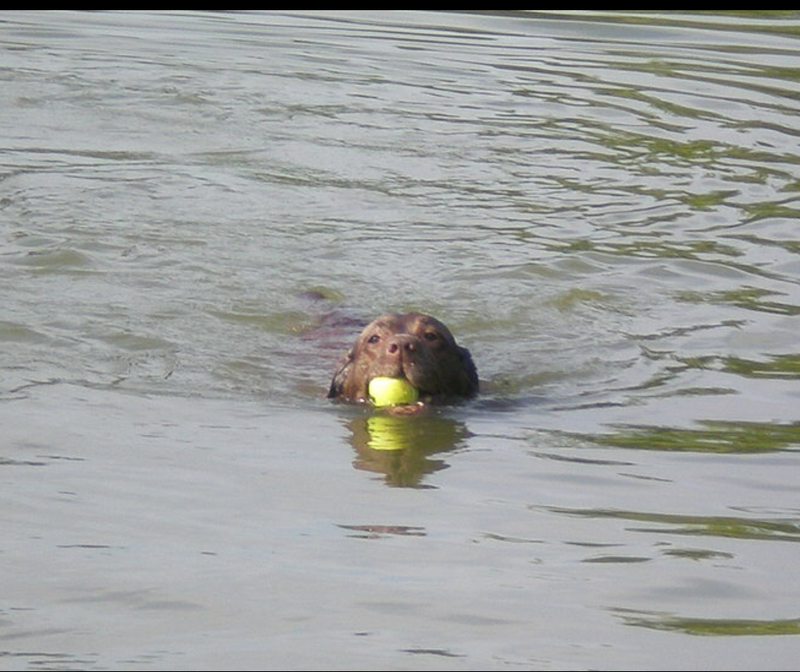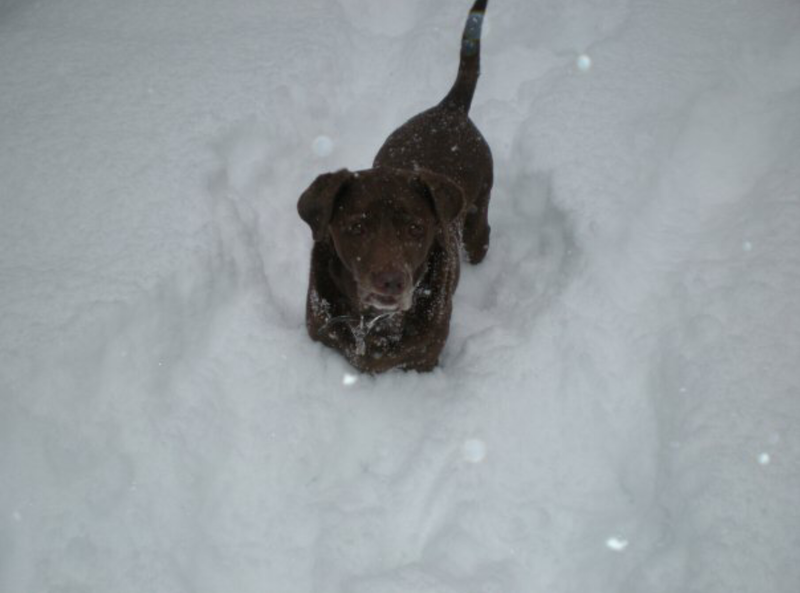 She loved going with us to our friends hunting cabin. She would stay with us while we enjoyed target practice with our shotguns. In true lab form, Abby would just lay there chewing a stick and not flinch at the sound.
We were preparing for a trip to the hunting cabin and decided to get Abby "cleaned up". This meant a bath and brushing her teeth. Bath was done and now to the tooth brush with her beef flavored paste (which she loved!). Upon opening her mouth we saw a swollen spot that looked like a strawberry.
That strawberry turned out to be cancer. The word no one ever wants to hear. The world stopped! A million thoughts rushing through our minds. How could this be? We brush her teeth once a week and never saw anything. She's only 7 and there is so much more we want to do with her.
Surgery! Yes surgery can remove this cancer known as Squamacous Cell Carcinoma. Off to the specialist who tells us it has been caught in the early stages and surgery should remove it. So they remove all of Abby's front teeth, her canine on the right and part of her palate. She can chew, eat and looks the same. Some dogs have a deformed muzzle after surgery, but Abby's is only slightly noticeable. She actually has a smile like Elvis now, just a little crooked.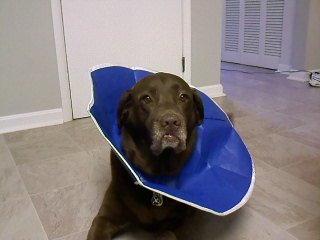 Life is now good. More trips to the lake where she swims with her friends and to the hunting cabin and chewing on tree branches. Age is setting in as she is 8+ years and we see her moving a little slower, but then again so are we.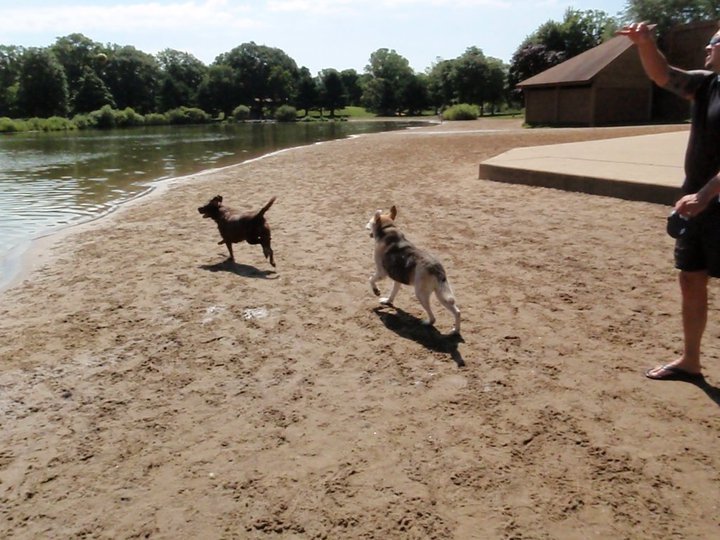 (Above picture is Abby and her best buddy Gunther at a dog beach in Summit County, Ohio)
We decide that Vegas is where we want to live. So we sell our house and pack up the car and the three of us drive 4 days across the country to start a new adventure. Abby is the best passenger in the car. Never a peep out of her, she either sleeps in the back of our Jeep or hangs her head out the window.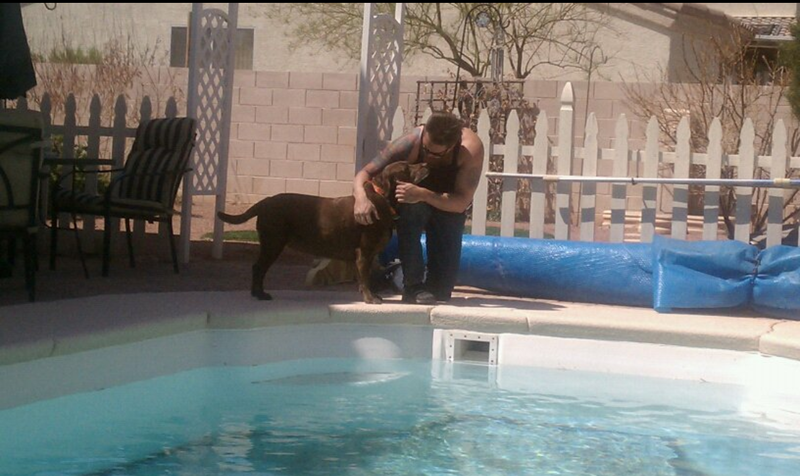 (Above picture is our first few days in Vegas trying to settle in)
Abby hates the Vegas summers. Hot for a large English lab that wants to romp in the snow. But we have a pool that she enjoys. It's difficult for her as she is getting older at age 10. So lets keep her young and get her a sister! Yea that's it!!
Along came her sister, Bella that we rescued from a Vegas shelter. At four months old Bella, a Pit Bull mix fell in love with Abby. She depended on Abby to show her the ropes. We also noticed Abby enjoyed showing Bella the way.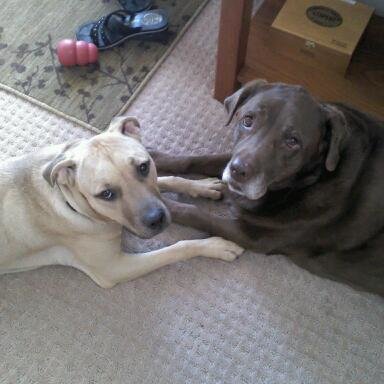 Two years later along came Jet our third baby. Jet came to us from Las Vegas Labrador Rescue and she was full of energy and life at 18 months. Our pack is now complete.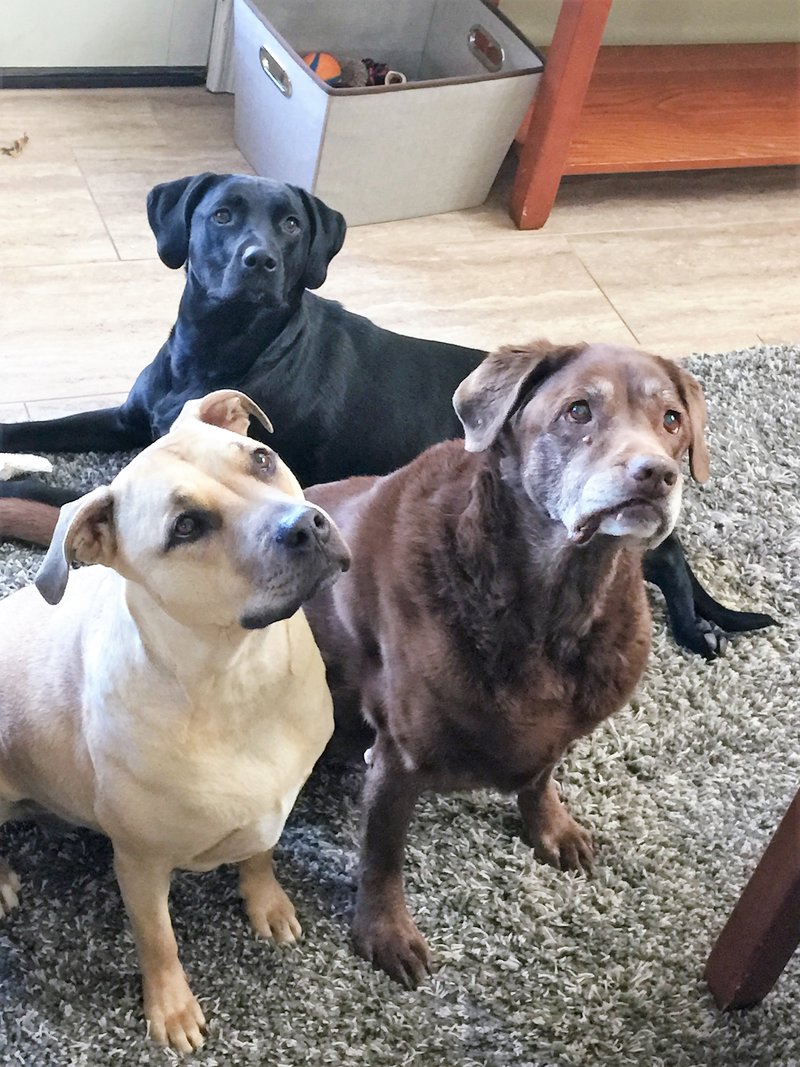 Even though Abby had her sisters in Vegas, she still missed her doggy friends in Ohio. She would even send pictures to them when their health turned. Her favorite doggy friend in Ohio was Gunther or G-Boy. They were best buddies.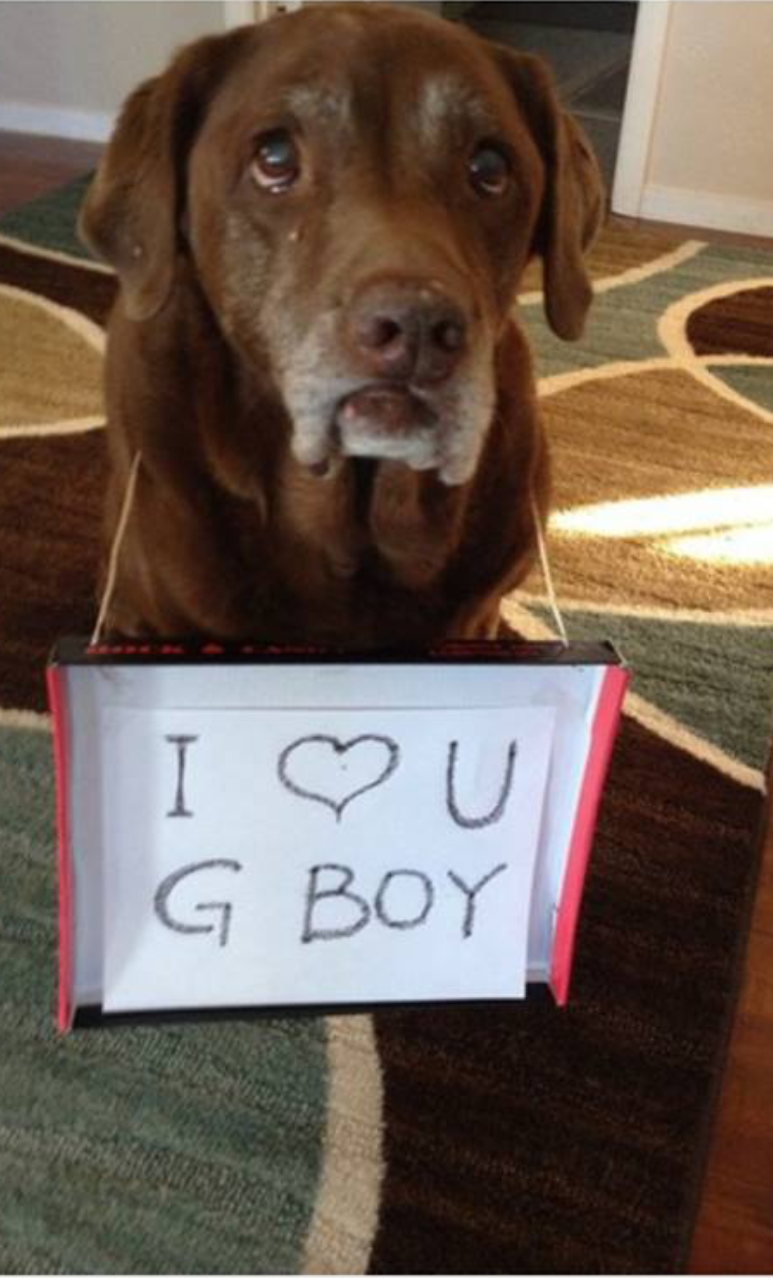 (The above picture was sent to Abby's best buddy in Ohio, Gunther who was losing his battle with cancer)
In November 2014, Abby's 13 and has developed a urinary tract infection (UTI) or what we had thought was a UTI. Tests showed no infection, but Abby was in some distress when trying to urinate or she just couldn't urinate. More tests, blood work, x-rays then more x-rays. Nothing.
By the end of December she was going to the vet every day for a catheter to empty her bladder. Some days she stayed all day others we would pick her up after a few hours. Blood in her urine now. This isn't good....
After 2 months of testing and catheters the radiologists finds IT.. bladder cancer. It is a cancer they can't remove. The world falls away again, can't hear anything. Why is this happening?!
We slow her catheter treatments to only a few a week to ensure her comfort. We can tell when she has to go back to have her treatment. For the most part she's a happy girl. She does sleep a lot but she's 13, right? She's eating and will still take off your finger for a treat, so that's good.
March 22, 2015, Abby's 14th birthday. What a party! Abby got a hunk of carrot cake and I mean a HUNK! She ate all of it and we didn't care. We just saw a smile in her eye and that's all we needed to see.
Just 2 weeks later we lost her. It was the most difficult day I can remember. It was hard letting her go over the rainbow bridge, but she was so tired. She spoke to us softly the night before and told us it was time. She had given us all of the love any dog could. She really wasn't a dog, she was so much more.
So we lost our beloved Abby and it left such a hole in our lives, our other dogs lives, our friends and even our vet's office. People still talk about Abby and how they loved her and what a great dog she was.
So in her memory we have started The Mutt Stop Dog Supplies. We have used her paw print still holding our heart. Rest in Peace Little Girl.......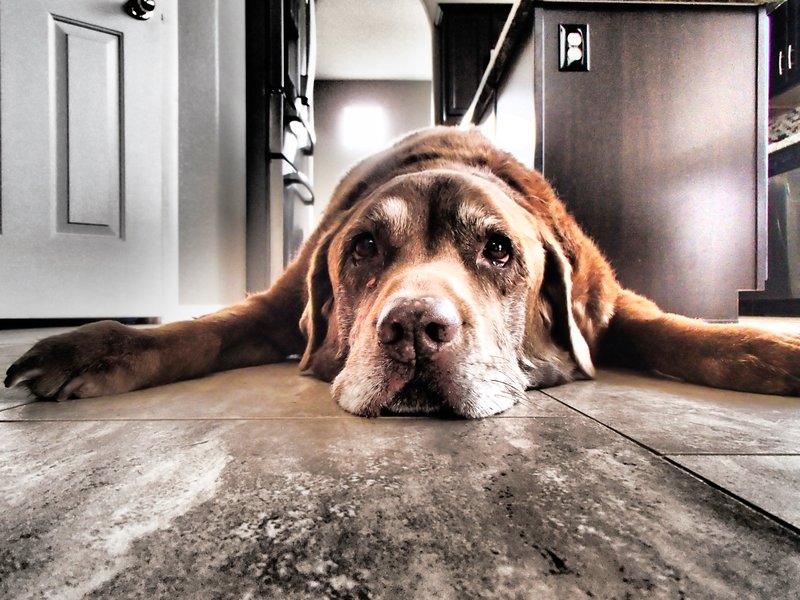 (The above picture was taken only 3 weeks before we lost our girl to cancer.)