Abby's Paw Dog Treats GRAIN FREE Carob and Banana 9 oz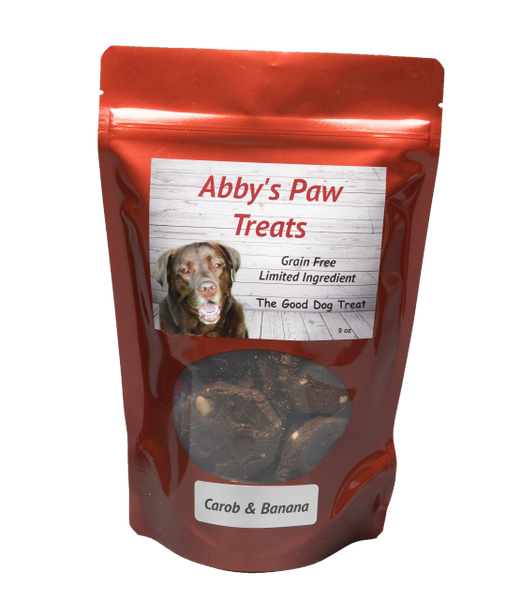 Abby's Paw Dog Treats GRAIN FREE Carob and Banana 9 oz
Grain free! No wheat, no corn, no soy! Limited Ingredients, Vegan, All Natural!
These Abby's Paw Treats are flavored with carob and banana pieces. We enjoy the taste of chocolate so why not let our dogs enjoy the same great taste that won't hurt them like chocolate!
Carob is a great source of fiber and this super food improves digestion, lowers cholesterol and can be used to treat diarrhea.
They also have Abby's stamp of approval with her actual paw print adorned on each treat. Treats are approximately 2" in diameter. These treats are made fresh when ordered. Please allow 3-5 days for shipping.
You are also able to select the rescue you would like us to make a donation to. Just select your rescue of choice and we will donate 30%* of ever bag you purchase to that rescue. If you don't select one we will designate one at the end of the year.

Treats come in a heat sealed bag that is reclosable.
Ingredients: chickpea flour, peanut butter, carob powder, dried banana, water, coconut oil, ascorbic acid (natural preservative)
Guarantee Analysis: Protein (crude) 18.82%, Fiber (crude) 1.57%, Fat (crude) 26.57%, Moisture 4.90%


*30% is after cost