Red Dingo Paw Print Pet Tag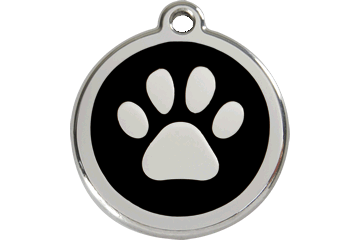 Red Dingo Paw Print Pet Tag
These dog tags made by Red Dingo are stainless steel with enamel and are guaranteed for the life of your pet!
These tags are twice the thickness compared to other pet tags. They are solid stainless steel and have highly polished surfaces and rounded edges. The engraving is guaranteed for the life of the tag.
The tags come in three (3) different sizes and engraving options:
Small (diameter 0.8" weight 2oz) 12 characters per line-up to 3 lines
Medium (diameter 1.2" weight 0.6oz) 16 character per line-up to 5 lines
Large (diameter 1.5" weight 0.9oz) 19 characters per line-up to 6 lines
There are six (6) color options to choose from.
Price includes engraving and shipping! Please allow 5-7 business days after we receive your order for your tags to arrive.