USA-K9 Stars and Stripes Ball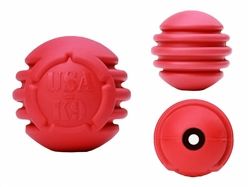 USA-K9 Stars and Stripes Ball
Ultra-durable natural rubber ball with dental ridges. While the dental ridges help to keep teeth clean and breath fresh, the ball has a center cavity that can be used to fill with peanut butter or cheese spread. Can be used as a retrieving toy, promotes interaction and helps prevent boredome for dogs while they attempt to get the treats out of the toy.
Made from our propietary K9-RUBBER, an all natural rubber compound which strikes the optimal balance between durability and chewiness. It is the ideal natural rubber compound for the majority of dogs.
USA-K9's all natural Original rubber compound is FDA compliant, non-toxic and even biodegradeable. It is also sustainably harvested from plants that consume carbon dioxide and produce oxygen helping us reduce our carbon footprint so we are not only animal friendly but planet friendly as well.
Made in the USA and Veterinarian Approved! Dishwasher safe and easy to clean.

For Dogs 30-65 lbs./15-30 kg.
Specs: 3" Diameter, 5.9 oz.